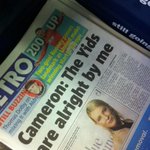 The debate about the use of the word 'Yid' in football is all over the papers at the moment, including, with breathtaking insensitivity, this front page. I'm not easily offended, but found this headline is horrendous.
The topic of Jews and English football is the subject of an exhibition, Four Four Jew, opening next month at the Jewish Museum London. I interviewed the curator and we touched on the controversy around the 'Y word' , as she phrased it. She said that while the exhibition would look at the use of 'Yid' it 'wouldn't come down on either side of the argument'.
Ultimately, whether you are comfortable calling somebody a 'Yid', either in support or in hate, is a personal decision. I made up my mind where I stand a long time ago and here is an updated version of an article I wrote on the subject in Time Out a few years ago.
———
I'd been calling Spurs 'the Yids' for a couple of years before my dad told me it was racist. 'Don't you know it's anti-Semitic?' he said. I didn't, nor had I worked it out from one of my favourite Chelsea chants: 'He's only a poor little Yiddo/He stands at the back of the Shelf/He goes to the bar/To buy a lager/And only buys one for himself'. Racial stereotypes were clearly not one of my strong points as a 13-year-old.
I'd like to say that I immediately stopped using the word, but I didn't. Chelsea fans – like those at Arsenal and West Ham – had been calling Tottenham 'Yids' for decades. Given that Spurs devotees called themselves the 'Yid army' I didn't see how it caused any harm. I didn't consider it racist or anti-Semitic, just a near-the-knuckle nickname for a rival football club.
I've stopped now. The eureka moment for me came when I was at a game in the mid-90s. Chelsea fan David Baddiel, who is Jewish, was spotted by the crowd after half-time as he returned to his seat with a cup of tea, and several hundred people began chanting 'Yiddo, Yiddo' at him, in what I imagine they considered to be an affectionate manner. Baddiel smiled it off – but the penny dropped that this was straightforward racist abuse. Baddiel later wrote:  'I told myself that it didn't matter, that for most of these fans, "Yiddo" simply meant a Tottenham player or fan and that the negativity was about that and not about race.' However, when Chelsea fans aimed the chant at non-Tottenham Israeli players, Baddiel 'realised "Yiddo" may mean Tottenham fan but it also means Jew.' He has since become an outspoken opponent of the use of the word by all supporters, earning him much scorn from Spurs fans. 
It used to be worse. In the 1980s hissing to imitate the release of gas was said to be commonplace, but I have never heard this – or chants about Auschwitz, bar from two drunks on The Shed in a League Cup tie in 1990 –  in more than 25 years of attending Chelsea-Spurs fixtures home and away. By the early 1990s, many fans had realised that was a step too far. I'm sure it still occurs but, in my experience, it's pretty rare. Although by all accounts, West Ham are still at it. 
The canard that hissing is regularly heard at Chelsea games is often used by Spurs fans, as they attempt to defend their own use of 'Yid' but Jeremy Vine, a former Times journalist and another Jewish Chelsea fan, agrees it doesn't happen often. 'I'm sure I would notice hissing as it would most likely come from the Matthew Harding Stand, where I sit.' Vine stopped attending games in the 1980s due to racism and says: 'Without doubt some of those who chant "Yid" are anti-Semites at heart… but I don't believe all are.' The problem is that 'personal jibes are part of the language of the terraces. Anything goes. And so the boundaries of decency and offensiveness become blurred.'
What muddies the water further is that since the 1970s, Spurs fans have reclaimed what was originally coined as a term of abuse (nobody knows why, Tottenham being no more 'Jewish' than Arsenal or Chelsea). Former Chelsea chairman Ken Bates, always torn between defending Chelsea supporters while confronting their excesses, argued that, 'It is hard to criticise Chelsea fans for calling Tottenham supporters something that they call themselves.' Chelsea have since rejected this line and now take a zero tolerance approach. It's worked, to some extent. My old favourite, 'He's only a poor little Yiddo' is rarely heard at Stamford Bridge these days. Spurs still get plenty of abuse, but – within the ground, certainly – the tone of it is much changed. 
A few years ago, Spurs conducted a 'full consultation exercise' over the use of 'Yid Army' because of fears it led to 'casual anti-Semitism', but this was criticised by many of their own supporters who felt the chant united Jewish and non-Jewish Tottenham fans. 'If you are Tottenham, you are a Yid,' is the line many take. That is what annoyed them so much about the recent FA instruction that all uses of Yid must cease, an argument that David Cameron has now blundered into. Many argue there's a distinction between chanting 'Yiddo' and singing about concentration camps, which is broadly true – unless you're racist. I'd even go so far to contend that Spurs have won the argument – they've reclaimed a term of abuse. But when it leads to casually racist headlines like that published above – and let's remember that most Jewish people who see that headline will not support Tottenham –  one wonders quite where this will end.
It is, as Joanne Rosenthal, the Jewish Museum curator, told me 'very complicated. Even if it appears black and white the two poles are very strongly opposed. Fan culture has this nastier side and we can't ignore it. It's now become part of Tottenham's heritage. It's difficult to tell people what they can or can't do.'
Perhaps not, and I'm a huge fan of tribalism at football, but sometimes everybody just needs to grow up and move on. Maybe that Metro headline, as trivial and offensive as it is, will give people pause for thought.